Wed 20 Jul 2016
Posted by PJ under 4th avenue, caregiving, folklore, goddesses, gods, green man, journeys, nature, reminiscence, renewal, travel, venice
No Comments
Green Men are found in many cultures. They are commonly a symbol of rebirth and regeneration, the spring greening that inevitably follows the dying of winter. I'm fascinated with them. I have two of them, one in the back yard garden near the peach tree:
The lovely lady to the left of him is the Roman goddess Flora, and the lady on the right is simply named Ivy. The man himself is cast iron and ages gracefully, rusting in interesting patterns.
I also have a Green Man inside: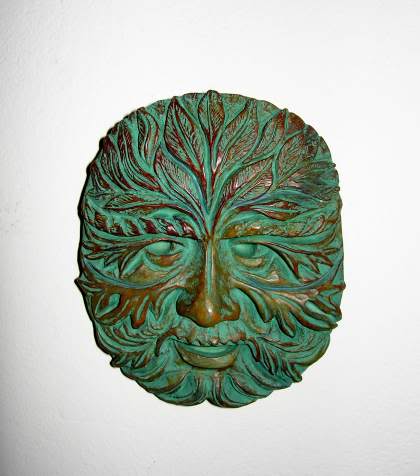 He's smaller, also made of metal, but I doubt he's copper as the green of him suggests. I believe the "aging" on this one is artificial—but I still think he's rather cool. I'd have more Green Men if I had the space and money (so it's probably a good thing I don't). I like the ones with serious and slightly sinister expressions, and I like them to be made of serious natural materials like metal, not these comical cast resin ones that you see here and there and everywhere (though I admit, Flora and Ivy are cast resin). Why am I so fascinated with these Green Man images?
I'm a city girl, born and raised. If I want to get in touch with Serious Nature, I have to drive quite a ways out of town, and when I was a kid we never left town, unless it was to drive to Pomona for the county fair or to Disneyland in Anaheim. There wasn't enough money for anything else, nor any time and inclination with my parents working hard. It just wasn't in the program. As a consequence, I was 18 before I ever went on a real vacation, and as for nature spots? Mom didn't see much sense in going places where you had to sleep on the ground and cook over campfires. She'd had enough of that "nonsense" in her roughing-it country girl days and found no romance in the experience. Why would any sensible human being want to give up modern conveniences?
So I grew up having to take nature where I found it. Fortunately, back in the olden days of Los Angeles, there still existed patches of it here and there. An immense vacant lot existed on my block on Fourth Avenue in Venice, for one. (It is now a public storage facility.) For another, my father planted a magical garden every year, a place of communion and nourishment. (I'll discuss that another time, in The Green Man, Part II.) Occasionally, I got to visit my older brother in the Santa Monica mountains, where my nieces and nephews (all mostly older than me) would lead me on fantastical trips over the hill and through the woods following streams…until we popped out of the rough onto the manicured lawns of the Bel Air Country Club golf course. Then we'd hightail it back into the woods. These things were extremely important to me, as were long walks on the beach, about five blocks west of where we lived.
I loved the beach best when it was cold and rainy, partly because the things that drifted up on shore—the glass, the driftwood, the truly odd and puzzling things, were more interesting and less picked over by other beach walkers. Mostly, though, it was because I could walk there on cold days without much interference from other people, thinking my thoughts, communing with the vast rolling heart of the sea, feeling the chill pierce me to the bones. That chill always felt purifying rather than cold. I could not return from those walks with any black spots in my spirit. The wind off the sea blew them all away and gave me bliss in return.
That garden and that vacant lot saved my sanity during childhood; those walks along the sea saved my adolescence. Nature, my small neighborhood version of it, never failed to renew me. That, I think, is part of why I am so fascinated with the symbolic representation of nature: I want to recapture, to remind myself, of that need for renewal, that need to physically get out and get in touch with something green and greater than the mere mortal.
In my twenties I went on long hikes in the Angeles Crest. It's a great, sprawling wilderness within easy driving distance of Los Angeles. Some of it, like Dart Canyon, is at a low enough elevation that on smoggy L.A. days the bad air penetrates them. You have to hike higher up if you want to avoid the city pollution. But on lovely, clear days Dart Canyon is a enchanted place, with maple and sycamore trees, waterfalls, the ruins of cabins and of a lodge destroyed in a great destructive flood in the 1930s. Higher up, there's pine forest, ski summits, abandoned mines, and scrambling over big boulders to cross streams.
Those hikes were literally peak experiences for me: cleansing, renewing, exhilarating.
My favorite parts of any vacation, whether in this country or another, have been those times when I get into the countryside, touch the green, listen to the birds, feel the wind sweep through my spirit and blow away the black clouds. Nature is my touchstone.
These days—and in the long years of caregiving—that touchstone is mostly limited to the back yard. There wasn't much time for anything else when Mom was alive; these days I still seem to be decompressing from that experience, trying to recoup my energy and my creativity. I'm far enough away from the beach that I'd have to drive, find parking, and my legs…no.
But the funny thing is, it doesn't really take Grand Nature for me to get that sense of renewal. The Green Man is alive, curling in every leaf and bud; his skin is easy beneath my palm in the smooth trunk of my peach tree; he dances in the swaying branches of the white willow that volunteered to grow in my yard. All I have to do is sit for a few minutes, enclosed by walls and trees and wildish overgrown patches, listening to the birds, smelling peach blossoms, feeling the earth and grass under my bare feet…and the magic still happens. I am there. He is there. I am lifted up, I am renewed. Maybe the Green Man is watching over me, I don't know. All I know is that I am grateful.