Thu 24 Mar 2011
This isn't as grand a mystery as some I have blogged about, but it is a personal one.
My stepdad, Tom, the former Marine, used to work as a house painter. One day he came home from a job in one of the ritzier neighborhoods—Hollywood Hills? Beverly Hills? Brentwood? Bel Air? I can't remember anymore, as this was many years ago now (the early 90s). Anyway, the people who lived in the house where he was working as a sub-contractor were chucking out a bunch of stuff to remodel. He came home with an enormous cabinet loaded on his truck. This cabinet was about four or five feet wide, about six or seven feet long, and divided in the middle, but it only stood about three or four feet high. It had a lovely blond wood finish. The drawers were deep but very shallow, making it resemble one of those for holding maps. It was totally cool and I totally loved it.
"I thought it might be good for holding all your art and crafts stuff," Dad told me. He was incredibly thoughtful like that. "Do you want it?"
Of course I wanted it. So he and a buddy unloaded it from the truck. (It weighed a ton and a half, btw.) As they tilted it to get it through the door, I noticed someone had written across the unfinished bottom, "Kubrick"—like a maker's mark to help identify who the thing was meant for.
"Wow, where did this come from?"
"That house I've been working at."
"Is it Stanley Kubrick's house, by any chance?"
"I don't know. I'll have to ask the main contractor."
I was very excited at the thought of having something that might have belonged to Stanley Kubrick, one of my favorite directors. I knew he'd lived in London for many years, and I thought he was originally from New York, but I wondered if there might be some L.A. connection. I thought the drawers would be a great size for film canisters or VHS tapes or some such. Dad duly asked the contractor and came back with disappointing news. "It's not Stanley Kubrick. I think he said it was some guy named Leonard Kubrick. He might be his brother or something, and I think he's in the movie business, too."
Disappointing, but still cool, and still a really great cabinet. I did indeed fill it up with arts and crafts supplies. Sadly, I couldn't take it with me when I moved from the family manse and my mother felt much less reverence for it than I. To her it was a gigantic, unwieldy piece of furniture that always got in the way. She tried numerous times to get me to allow her to give it away, but I wouldn't, so she had someone move it out to the patio, put the bird cage on it, and there is has remained, sadly abused.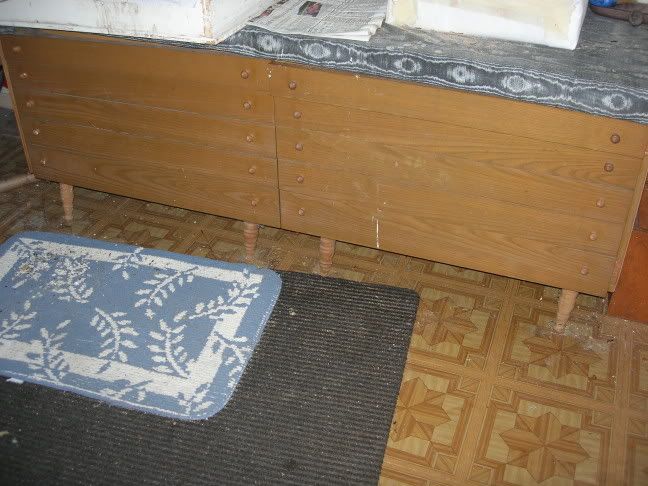 Kubrick's cabinet, complete with bird droppings
Stanley Kubrick's brother, Ma! She failed to see the significance, but I told a number of people about it. Some years later I decided to search the IMdb for this Leonard Kubrick. No such guy. In fact, further research also showed me that Stanley Kubrick only a sister, no brother. However, one strange thing emerged from the interdweebs: Kubrick's father was named Jacques Leonard Kubrick. He died in Los Angeles in 1985. Stanley also lived in Los Angeles for a brief period. One of his daughters (Vivian) was born here.
Then I watched an absolutely fascinating documentary called Stanley Kubrick's Boxes which detailed the incredible collection of stuff from Kubrick's films still stored at his estate in London: mountains and mountains and mountains of cardboard boxes with every imaginable scrap of material from all his films. He never threw anything away, not one photograph or location report or planning session or cocktail napkin. The family and friends didn't think these boxes should be thrown away so they donated them en masse to the University of the Arts London—an incredible film treasure. Before the archive went off to the U, though, filmmaker Jon Ronson was invited to the estate to go through those boxes and he made the documentary based on what he found, and on interviews with Kubrick's family, friends, and co-workers. I highly recommend this film, not just for Kubrick fans or film buffs, but for anyone who wants a view inside the mind of creative genius.
At one point, Ronson interviewed a gentlemen here in Los Angeles who had been responsible for collecting and reviewing, then storing all of the audition tapes for actors for Full Metal Jacket. Kubrick invited anyone who wanted to submit a tape to do so and there were hundreds and hundreds of them. Stored for years somewhere here in Los Angeles. Yeah, my imagination went there.
But really, that's all I have: imagination and admiration for Kubrick and a mysterious and cool cabinet with Kubrick scrawled across its bottom. For all I know, it could have belonged to Antonia Kubrick, beaded dressmaker; or Fernando Kubrick, herbalist; or Fitzhugh Kubrick, fancy pipe enthusiast. Imagination and speculative thinking, every bit of it. But that's what I do. It's a tenuous and threadbare connection to Stanley Kubrick, but it is the only definite one I have.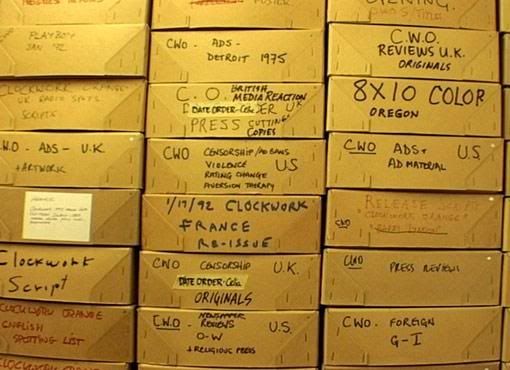 Stanley Kubrick's boxes
No Responses to " Today's mystery: Kubrick's cabinet "