Tue 29 Oct 2013
Posted by PJ under autumn, baby, bird, cats, corporations, government, holidays, ideas, illness, mom, novels, observations, plumbing, spirit, sports, technology
No Comments
7 Sep
Feeling as stupid as Hoda Kotb this morning. Sat in the driveway listening to a This American Life story and ran my car battery down. The AAA guy is changing it out for a new one now. It was old and on its last legs, he said. Glad I didn't have to have the car towed. The other irony? I never did hear the end of that story.
Not much energy today, even less after The Battery Incident. Desperately want a nap.
7 Sep
My 92 year old mother just declared that she wants to cook Thanksgiving dinner rather than have it catered as we'd planned. "It will taste so much better." It will, but neither one of us is up to it anymore. At least I'll have three days to recover. I may just be able to walk again by Monday. Mom doesn't like having Tgiving at other peoples' houses, either.
Mom has a huge spirit and can't accept her frail body. Who's to say she's wrong?
But I need knee surgery on both knees and that much cooking will involve a lot of time on my feet which will require a lot of recovery.
9 Sep
First sign of autumn at my house.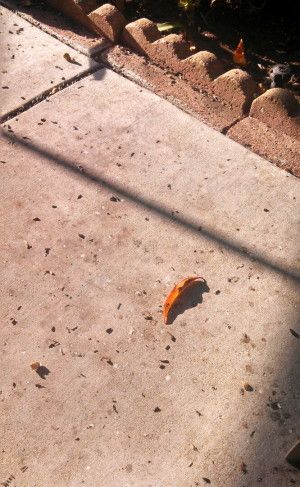 12 Sep
Called DPSS to find out exactly where to take the form they insist on getting in person (no email) before actually taking the day off tomorrow to bring it to them. 

"That's not a walk in office," the person on the phone said. "You can't bring things there until we transfer your mother's case to a new office." Which won't happen until October 1 when her case worker comes back from vacation. Apparently, no one else can help me.
On the one hand, I should be irate for the sodding great waste of time. OTOH, yippeee! I don't have to go to DPSS tomorrow!!
12 Sep
So I walked outside last night to put scraps out for the wild critters and came face to face with one—fortunately. I'd hate to be face to tail with a skunk. A skunk! In the middle of the city near LAX. I beat a hasty retreat back inside.
13 Sep
WUUUUUFFFFFFF! That's the sound of a giant gust of wind going out of my lungs in relief. Doing a little caregiver dance!  Dancey dancey dancey! Take that Amy F. Grant and Katie F. Couric! I got someone to take my mother to dialysis on Mondays and Wednesdays so I don't have to leave work in the middle of the day and make a 50 mile round trip! And I don't have to wait on DPSS to pay for it!
18 Sep
Remember when newsreaders actually understood the news they read?
19 Sep
She actually simpers. I didn't think anyone did that anymore once past the age of 16. Or who weren't employed in a cat house.
23 Sep
Mom was not in a good way after dialysis tonight. Had to call the paramedics to assist in getting her out of the car and into the house. She's okay. It just takes it out of her sometimes, makes her weak and very disoriented. She's usually fine by morning.
24 Sep
Procrastination is not a good thing. Then again, neither is exhaustion.
25 Sep
Note to Pam: you can't rely on the 92 year old to say when she's running out of things. It sucks but you have to monitor Every. Blessed. Thing.=
27 Sep
Mom came through her outpatient procedure very well. Unclogged the fistula in two places which may explain the excessive bleeding Saturday.
27 Sep
Got an absolutely brilliant idea for a story this morning. Unfortunately it was while laying in bed. I fell asleep and now can't remember it.
28 Sep
So relieved that necklace I've been ogling on Etsy sold. Close enough to my price range to be so tempting, but not money I needed to spend.
28 Sep
The nights when Mom is hallucinating from a combo of dialysis and pain medication are not at all stressful. Not at all.
It is what it is. She'll be fine in the morning once she's had a night's sleep, once I can get her to bed. It's been an occasional ongoing situation for awhile, just been a stressful week and harder to deal with today. Hoping things settle soon.
4 Oct
"[Those]…otherwise very good at math may totally flunk a problem that…goes against their political beliefs." http://fb.me/2xzM2CDAw 
4 Oct
Plumbing. Plumbing, plumbing, plumbing, plumbing.
5 Oct
My new dishwasher has been down since Sunday. Turns out rat(s) gnawed a hole in the drain hose. Min's a good mouser but can't get under the kitchen sink/counter where the bastards are coming up.
5 Oct
Emergency Kittens: pic.twitter.com/7I3Yb87rKi
7 Oct
Sears customer service sucks. My dishwasher purchased in April has a hole in the drain hose and even though I told two people at Customer Service what the problem was, they sent an installer crew not a repair crew and they didn't have the part needed to fix the washer.

 When I called Customer Service/Repair back I did get an intelligent, responsive person on the line who is sending the correct part to me, but even if they had sent a repair crew, I was informed, they wouldn't have had the part on their truck and I still would have had to wait to get the washer fixed. This is illogical, inefficient, and non-responsive and I am DONE WITH SEARS.
8 Oct
Apparently no one on service desks listen anymore.
8 Oct
So sorry people are leaving Goodreads over the review pulling. Sorrier still about pulling reviews because of some whiny authors.
9 Oct
Not surprisingly, the part needed to repair the dishwasher, which Sears promised would be here on Tuesday, has not arrived.
9 Oct
One of the worst aspects of being home sick is having to watch tea party wipes talking out of their ass. Oh right, I can turn the channel. Senator Buck McKeon claimed that less than 10 people in the whole country had signed up for the Affordable Care Act. Wolf Blitzer corrected that: over 16,000 in the 3 states reporting.
10 Oct
Tipping the potato chip bag up to get the last crumbs in your mouth: ladylike or beyond mortal definitions of assigned gender roles? Asking for a friend.
11 Oct
Guess what? Wonderful Sears ordered the wrong part for the dishwasher. The repairman won't be back for yet another week. That will be three weeks without a dishwasher plus taking care of a sick 92 year old and working full time. I'm so happy.
(Insert primal scream here.)
This morning as I was reminding Ma about the repairman coming I had a premonition about the wrong part. I'm furious but not really surprised.
13 Oct
Friday Sears said someone would call me within 24 hours. Do I even have to type the rest at this point? Sick as a dog since Friday. Probably just as well they didn't come.
14 Oct
My mother doesn't understand the concept of laryngitis even though she had it in the early days of this cold. What? What you say? What?
"The disease is nothing, the terrain everything"—Louis Pasteur on his deathbed.
Well, at least there's a UFO Files marathon on.
Fun: trying to get VRS to understand you when you have laryngitis.
18 Oct
Sears has gone beyond incompetence into criminal neglect. The part to fix the dishwasher is on backorder until November. At the crucial moment when I thought I was getting some resolution, we were disconnected. I called back to try to get to who I was talking to and the clueless helpdesk folks had no idea and connected me to someone who decided to stonewall and say "I see no record of you talking to anyone who made you such an offer. We can't do anything more for you. You'll have to wait until November." At one point the Sears stonewaller said, "I'm sorry you're unhappy with your dishwasher. Contact the manufacturer." "It's a Kenmore," I told him. "You are the manufacturer." He sputtered some but didn't have much else to say.
18 Oct
In other corporate news, Alka Seltzer Plus Nighttime is most excellent. First good night's sleep in days.
20 Oct
Hilarity of the morning: the bird and Mom coughing at one another. Or the bird saying "Ouch!" when I cough.
20 Oct
Birdie between coughing fits.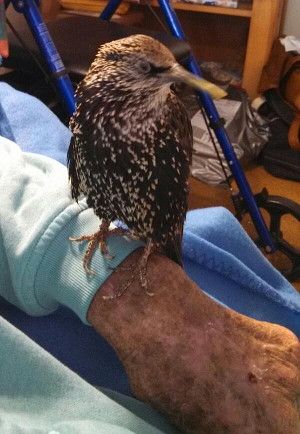 20 Oct
I suppose it's not possible to hope both teams lose the World Series. No hard feelings.
21 Oct
Every time I look up there's another Sears commercial on TV. The Universe is mocking me.
21 Oct
The ironies pile up.  "18 Depressing Photos That Show Why Nobody Wants To Shop At Sears"    http://yhoo.it/1a0jUyq 
22 Oct
I gave up on Sears and called plumber. He fixed the dishwasher in about 20 minutes with the parts the Sears tech said were wrong. The only reason I stuck with Sears this long was because the dishwasher was still under warranty.
Sears corporate types have been reading my Twitterfeed complaints and calling me, but the situation never got resolved. The weird thing, when corporate Sears calls me they go direct to voicemail. Those are the only calls that do. And when I call them back it goes direct to voicemail. This only increases my frustration and adds paranoia.
23 Oct
I'm not so much hoping the Sox win as I'm hoping the Cards lose. The Cards are a team of prigs. No hard feelings.
25 Oct
#1. Act 3 is broken and I don't know how to fix it and haven't got the time. #2. It's been out there so many times. #3. I never did find the time for that final read through. I don't know what I've got there. Could be brilliant, could be crap. #4. There are holes in this that still haven't been plugged. Plus #1 and #4 are part of trilogies. Oh the humanity! If I haven't got time for a one-off, how can I find time for 3???
I'm thinking of changing my name to Oh!TheHumanity! Thompson.
29 Oct
Sometimes I seem nearly psychotically cautious, other times the feckless, trusting fool.
29 Oct
Sears, to be perfectly fair, has promised to pay my plumbing bills for the dishwasher. I have not yet seen cash. I will keep you posted.
No Responses to " Observations "