Mon 10 Jul 2017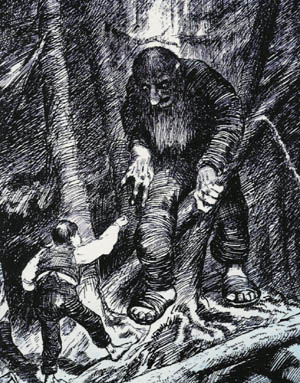 (1/27) Let me thread you a story…(1/27)
(2/27) Portalville was prid near shut down to outsiders in the days leading up to and after the 4th of July.
(3/27) We had our annual parade, featuring the Alouette High marching band, a float for Miss Firecracker, & Zombie Drill Team, like always.
(4/27) But visitors to Portalville had trouble getting here. There's plenty ways to Portalville. You can go through the Imogen Mountains,
(5/27) east of town, and then on through the Rokoko Valley. And there's Route 40 which passes north-south through town.
(6/27) But the main way most outsiders get here is from the west, over the Wynotte Bridge on the Wynotte River.
(7/27) Folks approaching Portalville from the bridge might notice a strange structure nestled under the eastern end of the bridge.
(8/27) It looks kind of like a condo clinging there. The impression only gets stronger once they get close because it is, in fact, a condo.
(9/27) It connects via a staircase to the toll booth right above. And it's where Dennis the Toll Troll lives.
(10/27) People might not think he's a troll. He usually dresses in a red plaid flannel shirt (summer and winter), black gabardine trousers,
(11/27) with a "Portaville Toll Authority" baseball cap. 'Course, he is ten feet tall with two lower jaw tusks curlin' over his lip.
(12/27) And he also has a tendency to take the fifth of Hiram Walker whiskey out of his back pocket to take a slug while collecting tolls.
(13/27) Generally, though, Dennis is peaceable. He collects the tolls, pockets half, and to the best of our knowledge never eats anyone.
(14/27) Wasn't always so. Wynotte wasn't always a toll bridge. Dennis freelanced. If someone came across the bridge when he was peckish,
(15/27) that person might not be heard from again. The town had to do something. A mob with torches formed, but Dennis is a powerful troll,
(16/27) not only strong as a whole army, but with mesmerizing magic. The mob didn't have much luck. Dennis had a full belly, though.
(17/27) We didn't have Sheriff Limonada back then or she might have defused the situation. As it was, Mayor Begay had to negotiate.
(18/27) The town finally agreed to let Dennis collect tolls officially on the bridge, half of which he could keep, half for the town,
(19/27) but under no circumstances was he to eat people. He didn't like that. "I'm a humanitarian," he protested. "I only eat humans."
(20/27) So the town agreed to supply Dennis with a steady stream of hogs & cattle if he'd agree to let people alone. No more mobs would
(21/27) trouble him. He reluctantly agreed since the mobs were a nuisance & not having to hunt & fight was a perq.
(22/27) We even built him the condo to sweeten the deal. AC, a chef's kitchen with an island & granite countertops, & a killer master bath.
(23/27) Things were good for a long time. But Dennis had him a backslide this week. Far as we know he didn't kill and eat anyone, but he told
(24/27) the sheriff that the human-eating jones was so strong he decided to close the bridge rather than risk it having his way with him.
(25/27) She said he belched a meaty belch at her, excused himself, & said, "I sure would miss my AC if you had to force me to move."
(26/27) The bridge is open again and outsiders are moving over it unmolested. Dennis seems to be calm and happy again.
(27/27) We've received no missing persons reports. So far.
This tale can also be found on Twitter @downportalville.